Maryland Sea Grant Welcomes Lisa D. Tossey as Assistant Director of Communications and Engagement
July 9, 2019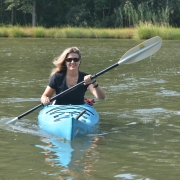 COLLEGE PARK, Md. – Maryland Sea Grant is pleased to welcome Lisa D. Tossey as our new assistant director of communications and engagement. Tossey will lead a four-person team of writers, editors, and designers who produce the award-winning magazine Chesapeake Quarterly as well as research compilations, videos, fact sheets, and scientific books. A longtime innovator in science communication and education, she will also engage with our diverse constituents in various ways, including facilitating and running scientific workshops and mentoring students.
Tossey comes to Maryland Sea Grant from University of Delaware, where she recently worked as a research multimedia specialist. Prior to that, she held positions at Salisbury University and Delaware Sea Grant, where she produced the award-winning "15 Second Science" video series and managed the program's social media presence. She also has experience in writing for a variety of media outlets, video production, and community outreach. In addition to being a filmmaker, she is also an accomplished photographer. Just prior to being hired by Maryland Sea Grant, she was one of 12 competitively selected fellows chosen for the International Wildlife Film Festival's LABS program in Montana for a seven-day intensive science filmmaking workshop. She also served as the communications manager for the National Marine Educators Association, which is housed in Sea Grant's College Park office.  
A sought-after speaker and presenter, she has also taught courses at Salisbury University and was one of the educators who assisted Chesapeake Bay environmental writer Tom Horton in providing a unique summer experience for students: circumnavigating the Delmarva Peninsula by kayak while learning about the region's rich environmental and cultural history. 
"Lisa brings not only a breadth and depth of communication experience to this position, but also a familiarity with Sea Grant as an organization and a network. She knows how our work, when communicated effectively, can foster a greater understanding of marine science among the public," said Maryland Sea Grant Director Fredrika Moser, who is also president of the Sea Grant Association.
"We're just so excited to have her leading the team," Dr. Moser added.
A graduate of Salisbury University, Tossey earned her Master's of Arts in journalism at University of Maryland's Philip Merrill College, where she specialized in science communication and multi-platform storytelling. She expects to complete an Ed.D. focused on the use of education technology in science storytelling from the University of Delaware in the spring. 
"I've always admired Maryland Sea Grant's work and am thrilled to join their team. The program has a long history of excellent community outreach as well as producing impactful films and beautiful printed pieces, like Chesapeake Quarterly, that serve to inform the public about complex scientific topics," Tossey said. "I look forward to continuing this tradition, as well as growing our communications offerings through implementation of emerging technologies to tell the stories of the diverse work being done here in fresh new ways."
The Blue Crab: Callinectes Sapidus
An essential resource for researchers, students, and managers.  Get your copy today!