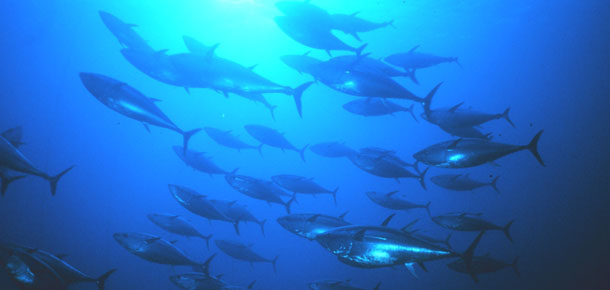 Application period for 2019 is open. Applications due February 28, 2019 at 5 pm.
See lists of current and past graduate fellows supported by Maryland Sea Grant.
In 1999, NOAA National Sea Grant Office and NOAA Fisheries established a graduate fellowship program in two specialized areas.
Population and Ecosystem Dynamics: For Ph.D. students interested in the population and ecosystem dynamics of living marine resources and the development and implementation of quantitative methods for assessing their status. Up to three years of funding.
Marine Resource Economics: For Ph.D. students interested in marine resource economics, concentrating on the conservation and management of living marine resources. Up to three years of funding.
At least two fellowships of each type are awarded nationally each year. Start date for both fellowships is August 1.
The main goals of the program are to:
Encourage qualified applicants to pursue careers in either population dynamics and stock assessment or in marine resource economics.
Increase available expertise related to these disciplines.
Foster closer relationships between academic scientists and NOAA Fisheries.
Provide real-world experience to graduate students and accelerate their career development.
To help achieve these goals, each fellow will be required to work closely with a mentor from NOAA Fisheries who will serve on the fellow's graduate committee. The mentor may also provide access to research data sources and to working/laboratory space in a NOAA Fisheries research facility and/or research vessel, if appropriate.
Eligibility
Population and ecosystem dynamics and economics fellowships are available to Ph.D. students currently enrolled in a U.S. university or college. Students must be U.S. citizens. See Federal Funding Opportunity for additional details.
Funding
The award for each fellowship, contingent upon the availability of federal funds, will be a cooperative agreement of no more than $48,000 per year (up to $40,000 in federal funds plus 20% matching funds). The award covers salary (stipend), living expenses (per diem), tuition, and travel necessary to carry out the proposed thesis research and to attend the annual fellows meeting.
How to Apply
Please read carefully as the process has changed.
Applications for fellowships are due via the Maryland Sea Grant's eSeaGrant proposal portal on January 30, 2019 at 5 pm. 
Step 1: Register for an account to prepare your application on Maryland Sea Grant's eSeaGrant proposal portal, https://eseagrant.mdsg.umd.edu, well in advance of the deadline. Click "Add Fellowship Application" under the appropriate fellowship request for proposals call to navigate the system and create your fellowship proposal. The PI who registers should be the faculty advisor. The student should be a Co-PI, added as a 'delegate' to the proposal in eSeaGrant. Both advisor and student must have accounts in eSeaGrant.
Step 2: You must upload all pieces of your application to the eSeaGrant proposal portal. All applications must adhere to the Federal Funding Opportunity guidelines, which include:
Signed title page
Project summary (90-2 short form)
Project proposal (five pages plus references and figures)
Curriculum vitae of student, faculty advisor, and NOAA NMFS mentor (two page max each)
Letter of commitment from NOAA NMFS supporting mentor
Official copies of undergraduate and graduate transcripts
Summary of academic training in quantitative methods (five sentence summary plus class list)
Education and career goals statement from applicant 

(two page max)

Three letters of recommendation, including one from faculty advisor 
Proof of acceptance and enrollment in relevant graduate program
Data sharing plan (two page max)
Budget and budget justification 
Note that indirect costs are not allowed. Please contact us early to receive guidance.
eSeaGrant notes: Log in (or register) and click "Add Fellowship Proposal" button to begin the process. A form for each required proposal element is listed along the left side of the screen. Upload all documents as PDFs unless otherwise noted in the FFO. Use the integrated Budget module to create 90-4 documents and justifications. If you wish to supply a separate PDF of your annual budget justification, please contact us.
We will then assemble the components for submission by our sponsored programs office through Grants.gov.
Please see the Announcement of Federal Funding Opportunity for more details on the format and content for the application:
Population and Ecosystem Dynamics Federal Funding Opportunity: NOAA-OAR-SG-2019-2005907
Marine Resource Economics Federal Funding Opportunity: NOAA-OAR-SG-2019-2005909
Maryland Sea Grant Contact
Dr. Michael Allen, Associate Director for Research and Administration
Maryland Sea Grant College
4321 Hartwick Road, Suite 300
College Park, Maryland 20740
phone (301) 405-7500
mallen@mdsg.umd.edu
For More Information 
For more details about the fellowships, visit the NOAA Fisheries/Sea Grant Fellowship website.
See the NOAA Fisheries/Sea Grant Fellowship Flyer.
Photograph, National Oceanic and Atmospheric Administration