The Four Busiest Months of My Knauss Fellowship
Noelle Olsen
•
February 18, 2019
By the time the Knauss fellowship begins in early February, fellows are at various stages of their graduate career: Law students may have graduated but are awaiting their Bar exam results; a Ph.D. student may be taking a gap year and will return back to their home institution once the year ends; some (the lucky ones) may have already defended and submitted their thesis or dissertation; and some began their fellowship with the preparation for their defense looming overhead. I fell into the last category of fellows and entered the fellowship without a scheduled defense date.
I quickly realized, however, that I was not alone. One of the aspects that I cherished the most from my fellowship year was being surrounded by so many new graduate students from different fields, regions, and programs — people who are intimately familiar with the challenges of graduate school, including reaching the academic finish line marked by finishing the dissertation. In the beginning of the fellowship, we volunteered to take part in a variety of self-organized committees that provided additional professional development opportunities throughout the year.
Lisa Peterson, a Ph.D. candidate from Michigan State University, helped wrangle some of the fellows to create a weekend writing support group. We met up at the Thomas Jefferson Building of the Library of Congress on a couple chilly Saturday mornings and also took advantage of the Silver Spring Public Library's private reading rooms. In addition to these organized library trips, I also participated in after-work informal writing sessions with friends, which were never without endless snacks and tea.
I was working on my master's in the Marine Estuarine Environmental Science program at the University of Maryland Eastern Shore with a focus on fisheries science. A fishery management plan was developed for Jonah crabs right before I enrolled in my program, but there was limited knowledge on some of the life history traits that are used to manage this species. Therefore, my research focused on the reproductive biology and size at sexual maturity of Jonah crabs in the Mid-Atlantic Bight to help inform management of this increasingly popular fishery.
After not meeting my initial goal of defending before the fellowship began, I set a new goal of defending before the spring semester was over. Time was running out to meet my university's deadlines as well as coordinating between my four committee members. I scheduled my defense about two weeks out from the date, and my defense date landed right between one of my best friend's wedding in Key West and my first major meeting with my office as a Knauss fellow. I had most, but not all, of my presentation slides prepared before I flew down to Florida. I made the conscious decision to leave my laptop behind, as I didn't think I would have time (or motivation) to work on my thesis in between my bridesmaid duties and the ceremony.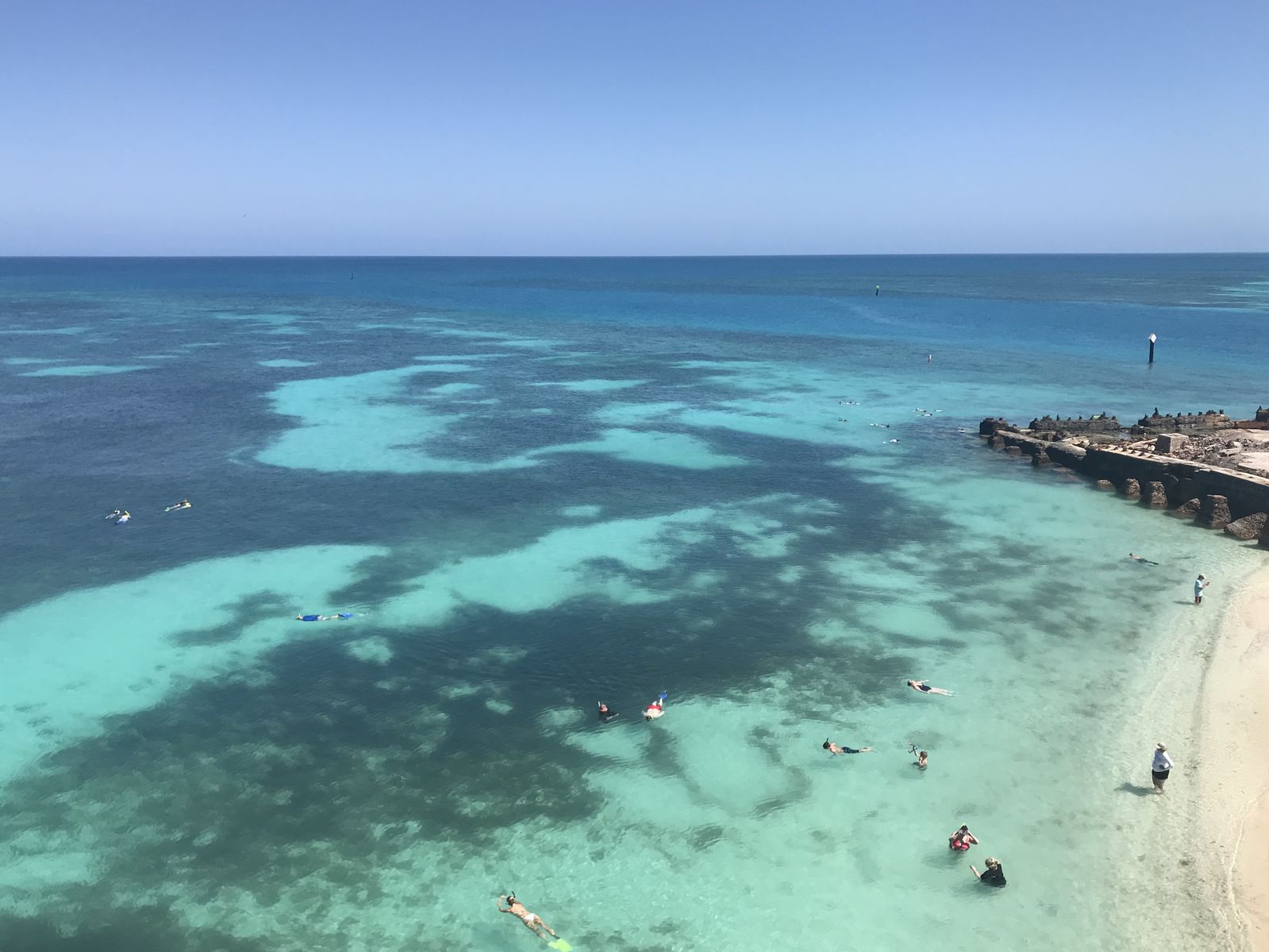 Watching the snorkelers from the top of the Fort Jefferson National Monument at the Dry Tortugas National Park. Credit: Noelle Olsen​
I squeezed in a daytrip to the Dry Tortugas National Park before I flew back to Maryland, which was my first time snorkeling in a few years. Just a couple hours in the water gave me time for my mind to recharge: my heart raced as I swam under one of the largest barracudas I have ever seen. I awkwardly floundered in the water so I could get a better look at the lone cuttlefish who seemed to be staring right back at me. I befriended a retired couple who sold their house with a goal of visiting all the National Parks. I definitely forgot to put sunscreen on the back of my thighs, which resulted in painful sunburns.
I had to quickly unpack from Florida so I could head to the Eastern Shore of Maryland and prepare for my thesis defense. I practiced my presentation with friends, lab-mates, and my advisor before some of my family arrived from out of town. Throughout the weekend, I balanced making final edits on the presentation while spending time with my family, and I defended Monday afternoon. I passed without complications and my friends helped me celebrate with pizza and a drum circle at my advisor's house.
The following morning was bittersweet when I had to return to campus to pack up my desk. I was exhausted, of course, but I had to push through the week and return to Silver Spring to prepare for my office's biannual gathering, the National Observer Program Advisory Team meeting, which was held the following week in Newport, Oregon. Following my meeting in Oregon, I served on a NOAA Fisheries grant review panel at the NOAA Fisheries lab in Pascagoula, Mississippi, and then I presented some of my American lobster data at the Atlantic States Marine Fisheries Commission's American Lobster Data Workshop in Narragansett, Rhode Island.
After I checked out of my Narragansett hotel, I made my way to a small café next door to a surf shop. It was a gloomy, rainy afternoon in May, and the temperature in the café was uncomfortably warm, but I finally emailed my advisor the final draft of my thesis. It was, and still is, difficult to process all the emotions associated with graduating. The academic-fellowship-life balance was trying, but I am certainly grateful for the support network I met through the fellowship who helped me in ways I couldn't have imagined. The past year has allowed me to grow into a better scientist by teaching me to lean on those who offer to help, to not be afraid to ask for help in the first place, and to always "pay it forward" whenever possible.
Photo, top left: A trip to the Library of Congress is not complete without some touristy photos of the U.S. Capitol. From left to right: Lisa Peterson (MI Sea Grant) and Noelle Olsen. Photo credit: Janet Hsiao (MI Sea Grant). 
Sign up to receive email alerts about new posts to the Fellowship Experiences blog
See all posts to the Fellowship Experiences blog
The Blue Crab: Callinectes Sapidus
An essential resource for researchers, students, and managers.  Get your copy today!