Microbial Diversity and Ecosystem Health: A Citizen Science Collaboration
Sarah Laperriere
•
November 5, 2015
With a rising population, humans are altering the way land is used in the Chesapeake Bay watershed. These changes in land use are threatening the health of many stream ecosystems across Maryland. Traditionally, stream health is monitored using the number and diversity of fish and macroinvertebrates (like mayflies and worms). While these indices are useful, microbes similarly respond to environmental disturbance and can be used as indicators of stream health. Bacteria are far more abundant than other organisms and are responsible for important ecosystem processes, such as processing the nutrients in streams that in turn affect water quality. With improvements in DNA sequencing technology, it is now easy and relatively inexpensive to use bacteria to monitor stream health.
To investigate how humans are impacting stream ecosystems across Maryland, my research team at the UMCES Horn Point Laboratory partnered with the Maryland Biological Stream Survey, a program of the state Department of Natural Resources, to determine how stream microbial diversity differs across different kinds of urban and agricultural land use in the Chesapeake Bay watershed. In addition, we have partnered with local watershed groups to examine how environmental stressors, such as agricultural runoff, road salt, and urbanization, are affecting stream microbial communities within sub-watersheds of the Chesapeake Bay.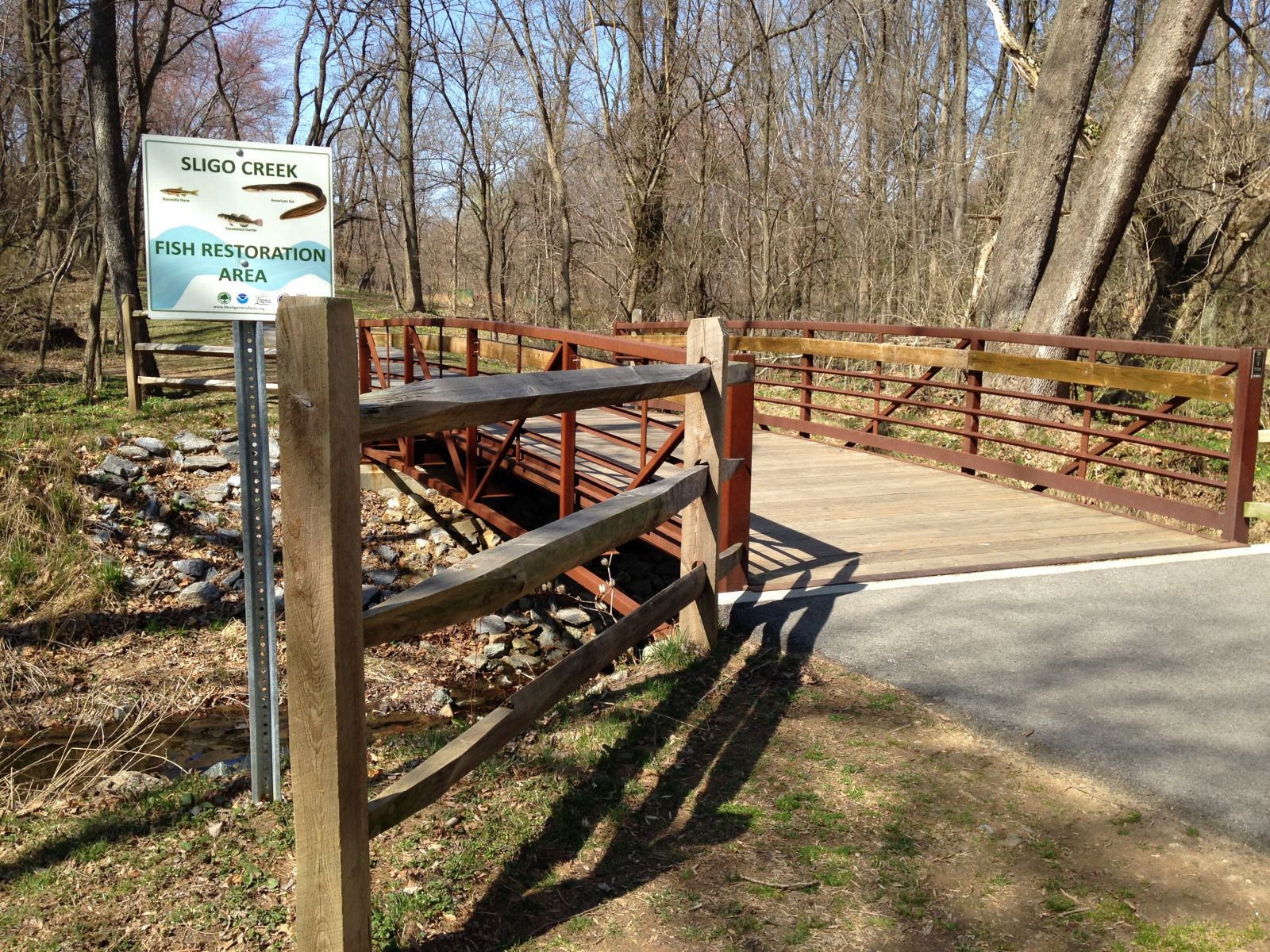 Sligo Creek. Credit: Anne Sergeant
Over the past year, I have collaborated with three citizen science groups — volunteers from Watts Branch Watershed Alliance, Friends of Sligo Creek, and Blue Water Baltimore – on this work. This is an example of how public participation in scientific research is rapidly increasing. There is a growing network of "citizen science" projects — scientific projects undertaken by the general public in collaboration with scientists. These projects harness the curiosity and passion of amateur scientists to engage and to educate the public and help investigate fundamental scientific questions.
Our citizen-science collaboration has three main objectives: a) to educate interested citizens about the importance of microbes in healthy aquatic ecosystems, b) to collaborate with citizens to investigate the biological impacts of different environmental stressors within local watersheds, and c) to explore the use of DNA sequencing technology in water quality monitoring.
The citizen volunteers in this project were asked to perform a visual assessment and gather background information on the streams they planned to sample. We worked with the volunteers to develop research questions, hypotheses, and strategies for sampling stream water to investigate how particular stressors are affecting stream bacteria in the groups' local watersheds. We also asked the watershed groups involved to describe what environmental stressors were of most concern in their watersheds and incorporated these concerns into the study design.
After establishing a sampling strategy, we shipped sampling supplies to each group, and the volunteers collected water samples throughout spring and summer 2015. Volunteers shipped their samples back to the University of Maryland Center for Environmental Science for processing and DNA sequencing. Once the data has been processed, we will discuss the results of each group's experiment and what implications it may have for stream water quality monitoring and restoration in their watershed.
Partnering with volunteer groups allowed us to expand our sampling efforts and collect multiple samples within the same stream. One of our groups, Blue Water Baltimore, collected samples to investigate the impact of stormwater runoff on stream bacterial diversity in Jones Falls and Gwynns Falls watersheds near Baltimore. Volunteers collected samples before and after a large rain event (> 1.0 inch of rain) to determine how stream microbial diversity changes after a large flow event in rural and urban regions.
Citizen science projects allow people to get involved in research happening in their own backyard. Collaboration with citizen scientists increased our manpower and sampling efforts by providing higher sampling resolution. Volunteers provided extensive knowledge of their local watersheds and the stressors impacting their streams. Many projects would be impossible without the manpower and local knowledge of volunteer citizen scientists.
Photo, top left: Sligo Creek. Credit: Anne Sergeant​.
---
Sign up to receive email alerts about new posts to the Fellowship Experiences blog
See all posts to the Fellowship Experiences blog
The Blue Crab: Callinectes Sapidus
An essential resource for researchers, students, and managers.  Get your copy today!