In Puerto Rico, A Bioluminescent Bay Blacks Out
Aixa Alemán-Díaz
•
February 12, 2019
Is bioluminescence good or bad? Or are we not sure? Who knows about bioluminescence and what do they know about it? What is the relationship between bioluminescence, people and society?
During the summer of 2018, I had the opportunity as a NOAA Sea Grant Knauss Fellow to visit a popular bioluminescent bay in Puerto Rico: the Laguna Grande bay in Fajardo. During this trip, I saw firsthand a different picture than what I observed a few years before.
Bioluminescent bays are coastal embayments that at night show light onto surface sea waters, visible to the human eye. What I did not imagine was that a "top" tourist destination would show no light, or a blackout. Although this was not the first blackout for Fajardo bay, it was the first time I saw one. If I compare what I saw with other visits to popular bioluminescent bays in Puerto Rico, it is notable that there was no bioluminescence. Some visits to bioluminescent bays happened as a child accompanied by extended family, while others occurred recently as part of my dissertation research project. It was unexpected to see no light.
During an afternoon this summer, a local manager explained why Fajardo Bay is experiencing blackout as he described that sargassum travels from faraway places like the Amazon River circulating thru ocean currents until it gets to Puerto Rico. Bioluminescence refers to the light emitted by living organisms such as fireflies, plants and animals. Coastal bioluminescence is a particular type of bioluminescence; this type emerges when there is the presence of microorganisms that emit light when touch or moved, and this tends to be found on embayments and on surface sea waters.
In regions like the Caribbean, sargassum are macroalgae (seaweed) plants that wash up on beaches via ocean currents and that float. The challenge for when sargassum arrive onto the coasts or oceans, as explained by scientists, is that when they die, they take out the oxygen from water and harm other sea life, because the water becomes like a "dead zone." This summer, the Puerto Rico local manager explained that after Hurricane María in September 2017, a series of sargassum waves have harmed the bioluminescent bays and other protected areas; a notable difference is that now these protected areas do not receive funding for their management activities.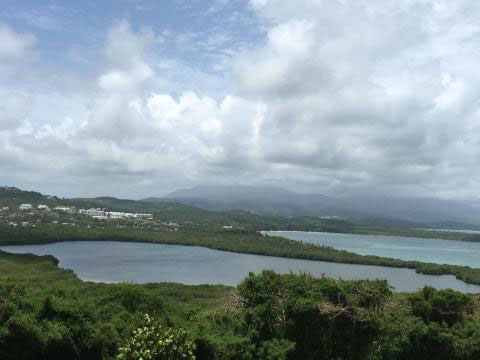 Laguna Grande bay in Fajardo, Puerto Rico. Credit: Lora Harris
During this visit, I walked around the coastal area near the Laguna Grande bay and joined an at-night kayak group tour with undergraduate students that discussed several solutions to a bay with no bioluminescence. First, a physical solution consisted of the construction and placement of a net to collect sargassum near the shore. This solution included constructing a channel going out from the bay into open ocean to recover environmental conditions. The assumption here is that coastal bioluminescence may happen again only if there is a "bounce back" process as documented by management and research perspectives.
Second, a social solution resulted in forming a group of 40 persons in light of their shared interest on the bay and coastal bioluminescence that hoped to develop solutions regarding this blackout. Individuals of different backgrounds such as kayak tour operators, managers of nonprofits, and scientists came together to form this local group. Together, they proposed and implemented the physical solution of the net described above. As a social scientist interested in coastal bioluminescence and as a person born and raised in Puerto Rico, no other local effort has emerged so quickly and integrated people of different walks of life for these ecosystems.
A few weeks before I arrived in Puerto Rico in June 2018, another series of sargassum events affected the coasts, including the bioluminescent bays. Some people believe that this event may be the main reason for the blackout. The reasons for why the bay experienced a blackout again (at least a few years ago as documented by local media) and whether this coastal bay can bounce back to offer the spectacle of coastal bioluminescence remain unclear.
Leaving this controversial topic aside, during my visit to Fajardo Bay, what surprised me was the practical and hands-on local solutions implemented by kayak tours and other interested parties. A combination of physical and social solutions may be our best path to assess and react to changes in the bioluminescent bays, coasts, and oceans. It's urgent to foster conversations about social and ecological perspectives on bioluminescence. During these conversations, I envision that the future and a collaboration approach can be built upon holistic perspectives about bioluminescence that result in taking appropriate actions.
Photo, top left: Net located near the entrance of Laguna Grande in Fajardo, Puerto Rico during June 2018. Credit: Aixa Alemán-Díaz
Sign up to receive email alerts about new posts to the Fellowship Experiences blog
See all posts to the Fellowship Experiences blog
The Blue Crab: Callinectes Sapidus
An essential resource for researchers, students, and managers.  Get your copy today!