The Strength of Diversity: How Genetic Research Could Help Restore Maryland Oysters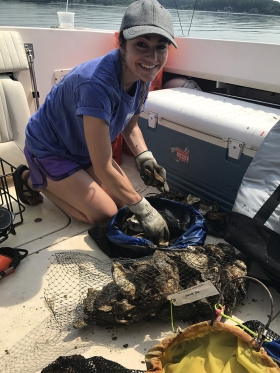 Katie Hornick
•
September 25, 2017
It was a scorching hot day. The heat index was above 100 degrees at only 9:00 a.m. It was late July on the Eastern shore of Maryland. I met with Ken Paynter's laboratory crew from the University of Maryland, College Park, at the Knapp's Narrows Marina in Tilghman Island. We were going out together to collect oysters, the focus of my dissertation project.
During the summer, the Paynter lab monitors oysters that have been planted in Harris Creek (a tributary of Maryland's Choptank River), where efforts are underway to restore the native oyster reefs. The Harris Creek project is one of the largest oyster restoration projects in the world, so scientific monitoring of these reefs is essential to determine their current and future success. But while my companions from the Paynter lab sampled the reefs to monitor aspects such as abundance, growth, and mortality, I sampled the oysters for their DNA.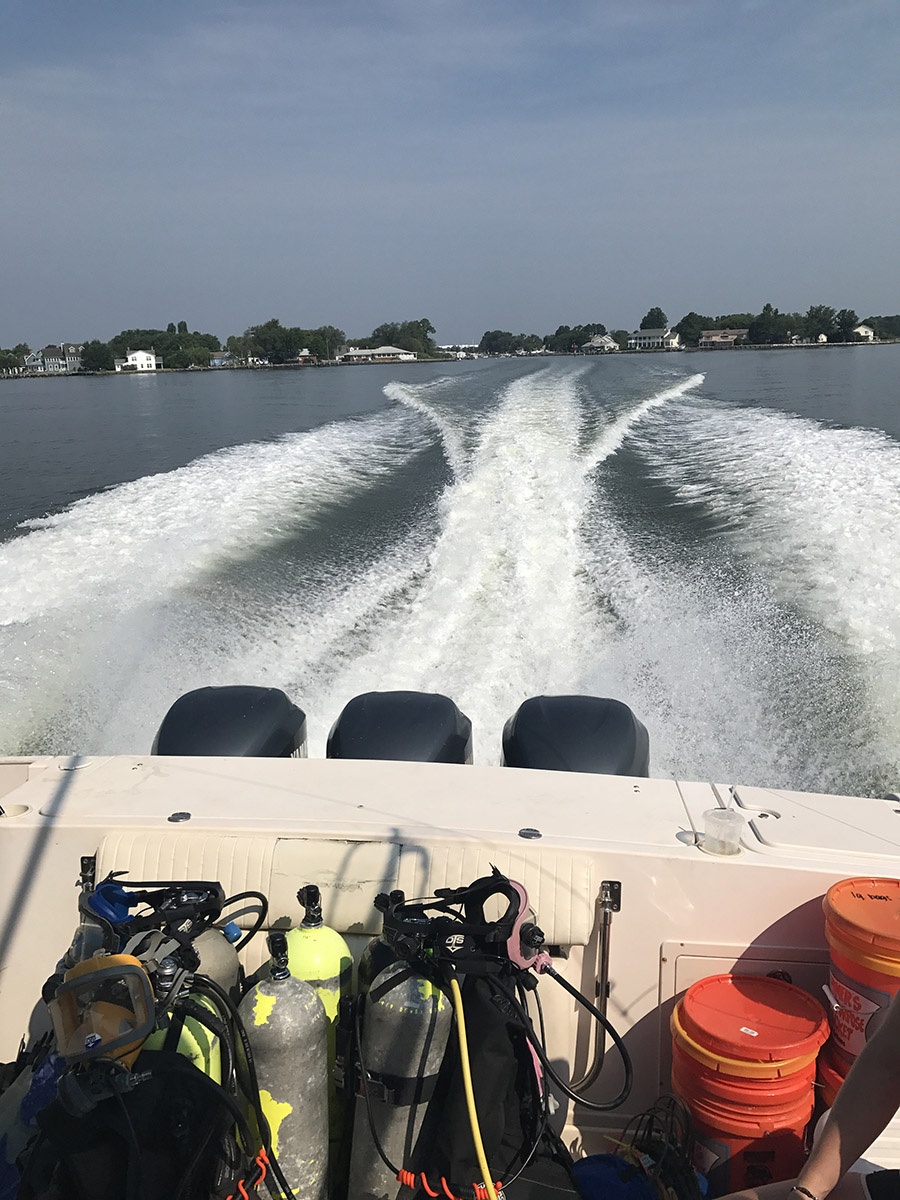 On the way to Harris Creep from Knapp's Narrows Marina in Tilghman Island, Maryland. Credit: Katie Hornick
Restoring oyster populations is critical to restoring the overall health of the Chesapeake Bay. Oysters not only filter and clean the water, they provide essential habitat for other important Bay species, such as blue crabs and striped bass. A few hundred years ago, the boat we ride out to Harris Creek would have crushed the endless oyster reefs below. Today only around 1 percent or less of the oyster biomass that existed in the Bay before European settlers arrived remains. Oyster populations have decreased rapidly over the past several decades due to overharvesting, disease, habitat loss, and declining water quality. Now, restoration efforts are underway to increase oyster abundances throughout the Chesapeake Bay and its tributaries.
A significant part of these efforts involves hatchery-based restoration at the Horn Point Laboratory Oyster Hatchery. Since 2011, juvenile oysters (spat) produced in the hatchery have been planted in rivers and creeks throughout the Bay in attempts to increase oyster abundances. Because the planted oysters raised in the hatchery can interbreed with wild oysters, it is important to monitor the genetic diversity of oysters at restoration sites to determine whether it changes over time. My research team is doing that by studying wild oysters from Harris Creek before the restoration began and comparing them with the current oyster population. We hope to learn whether planting reefs with hatchery oysters affects the genetic diversity of the wild oyster populations.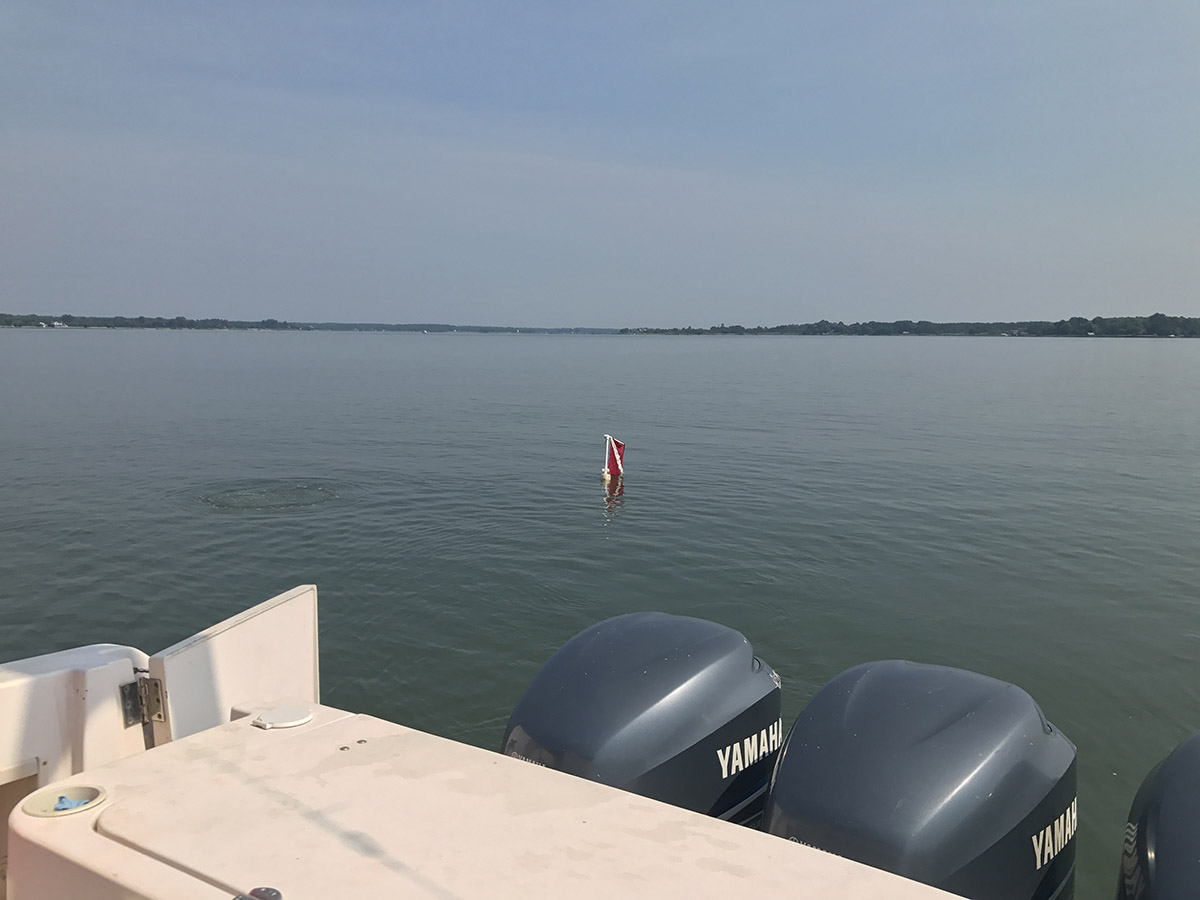 Once we made it to Harris Creek, a dive flag was deployed to signal that our vessel had a diver down and that other vessels should keep well clear at slow speed. ​Credit: Katie Hornick
Studying the genetic diversity of any population of animals gives researchers an idea of its overall health, and oysters are no exception. The more genetic diversity among these oysters, the better the chance that future generations of oysters can adapt to changing environments and stressors and the overall oyster population will increase. Research on other restoration programs has shown that supplementing wild populations with hatchery-raised individuals can lead to an increase in the genetic diversity of the overall population in some cases, and to a decrease in other cases.  The Horn Point Laboratory Oyster Hatchery works to maximize genetic diversity in the oysters it produces for restoration, but we do not know if or how these oysters may affect the overall genetic diversity in reefs at Harris Creek.  My research uses cutting-edge tools that allow us to look deep inside the oysters at Harris Creek, at the molecular level, to examine their genetic diversity.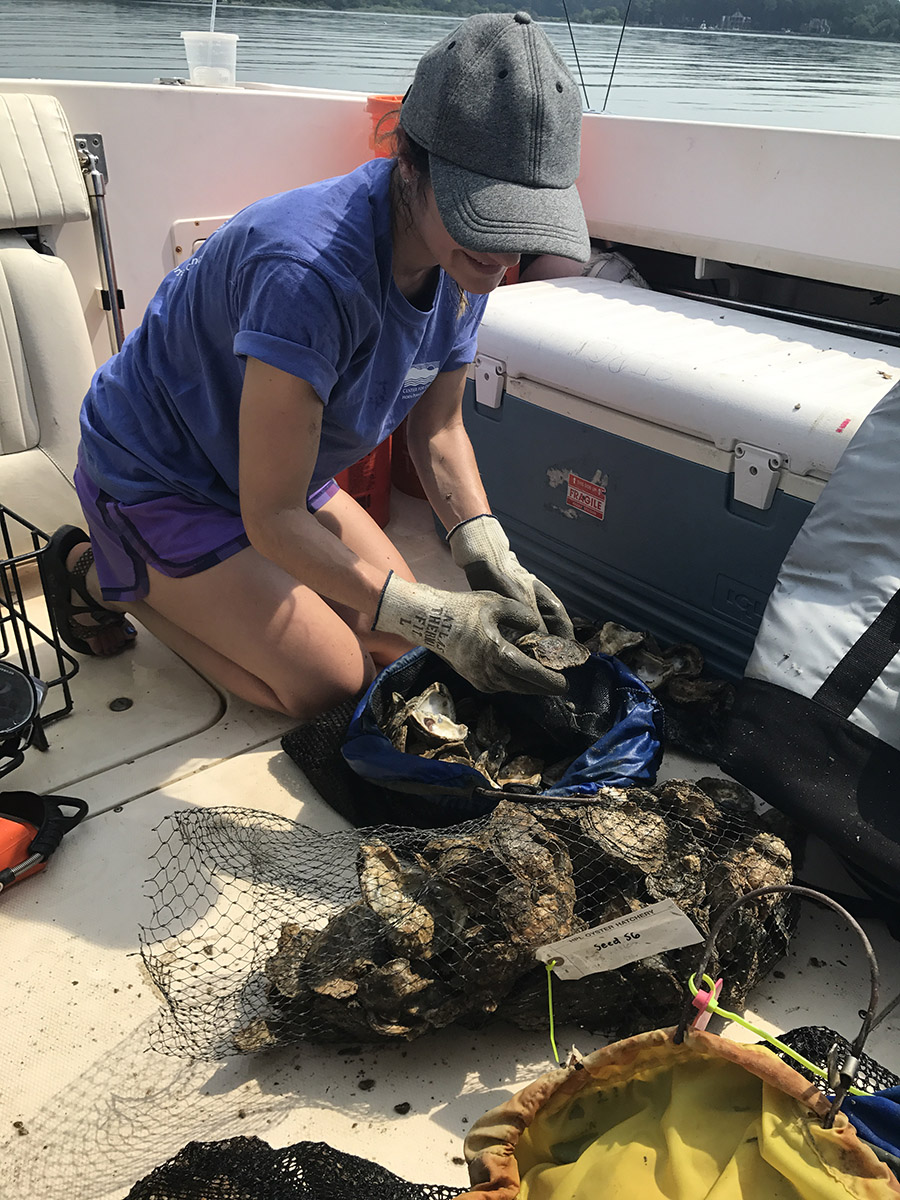 Sifting through clumps of oysters from one of the sampling sites to make sure they were planted oysters and of the age class that I wish to sample. ​Credit: Katie Hornick
During my trip in July to Harris Creek, I collected samples from four different sites where hatchery-raised oysters were planted.Oneof these sites had been planted with oysters once during a single year. Two more sites had each been planted with oysters in two successive years. And one site had been planted in multiple years. A question I seek to address is how one or multiple hatchery plantings affect the genetic diversity at these different reefs in Harris Creek. The folks in the Paynter lab kindly dove at these sites and collected the oysters I needed. I stayed dry on deck soaking up the blistering sun and sifting through the samples to make sure that the oysters I brought back with me were of the right age classes and were clearly from hatchery plantings. It only took us about half the day to get through all foursites.  There is something about being on the water that gives one a sense of peace and gratification, especially when you're out on an oyster sanctuary in a bay that has such a rich history involving these oysters.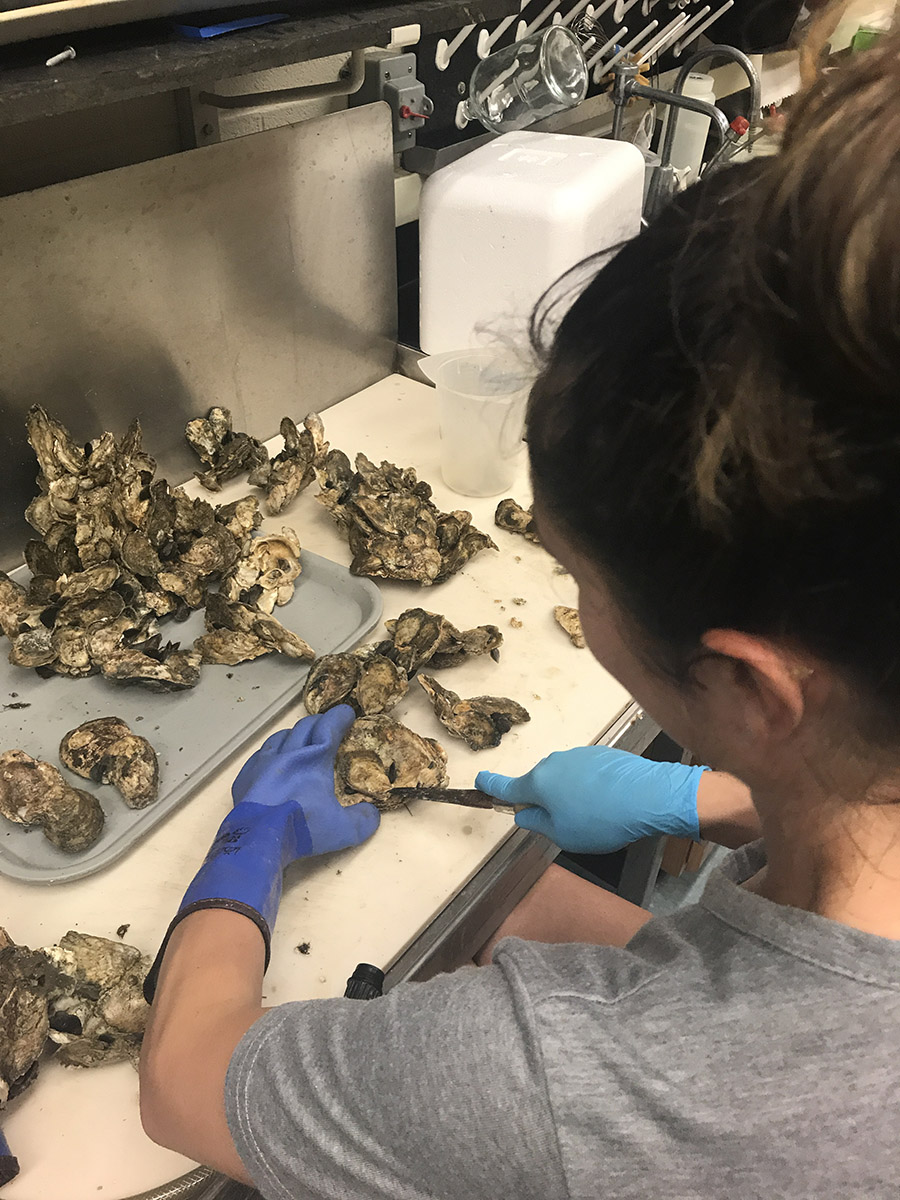 Back at the lab shucking oysters from one of the sampling sites. ​Credit: Katie Hornick
Although this constitutes only a portion of my research project, the results aid in our understanding of the genetic impact of oyster hatchery supplementation within the Harris Creek sanctuary, which will ultimately aid in other hatchery restoration projects within the Chesapeake Bay. Based on the information obtained from my research in the field and in the hatchery, I plan to use computer model simulations to understand the genetic impact of hatchery supplementation. Computer simulations will include various pressures on these oysters (such as poaching and disease) to determine which factors most greatly affect their genetic diversity. Computer simulations allow scientists to model complex life-history processes and demographic changes over time. Oysters have a very complex life history, so this computer model will aid in understanding not only oyster supplementation programs within the Chesapeake Bay but more broadly, it may be useful for planning oyster supplementation efforts in other regions and around the world. 
Sign up to receive email alerts about new posts to the Fellowship Experiences blog
See all posts to the Fellowship Experiences blog
The Blue Crab: Callinectes Sapidus
An essential resource for researchers, students, and managers.  Get your copy today!