Understanding Methodist Heritage Can Inform Planning Climate Futures
Elizabeth Van Dolah
•
February 23, 2017
I recently sat down with a local waterman on one of the old weathered pews of the Joshua Thomas Chapel in Deal Island, Maryland. I was there to learn about the local heritage of the small fishing and farming communities that are spread across the low-lying marshy islands of the Deal Island Peninsula. 
The communities here, home to only about 1,000 people in all, are rich in heritage. They include the villages of Wenona, Deal Island, Chance, Dames Quarter and Oriole, which are currently engaged in the Deal Island Peninsula Project (DIPP). This collaborative initiative, supported by Maryland Sea Grant, is currently developing adaptation plans to address increasingly problematic flooding and erosion.
It is also the focus of my dissertation research, where I am studying how heritage can be usefully employed in planning efforts to adapt to climate change. As an anthropologist, I'm curious to talk with people to learn how history shapes the way they value the Peninsula as a place. I also want to observe how they use the past to decide what's important about the Peninsula and what to carry forward into a future marked by climate change.
As I listened to this waterman recount the history of Joshua Thomas Chapel, a site listed on the National Register of Historic Places, I realized that I'd driven down Deal Island Road countless times past the towering steeple of St. John's United Methodist Church but never noticed the chapel, a small, unassuming white building just behind the church sanctuary at the entrance to the cemetery. Nor did I realize its significance. I was sitting in the second oldest United Methodist chapel in the United States and one of the birthplaces of Methodism on the Eastern Shore. And just outside its doors is the final resting place of Joshua Thomas, the famed "Parson of the Islands" who brought Methodism to these shores in the 18th century.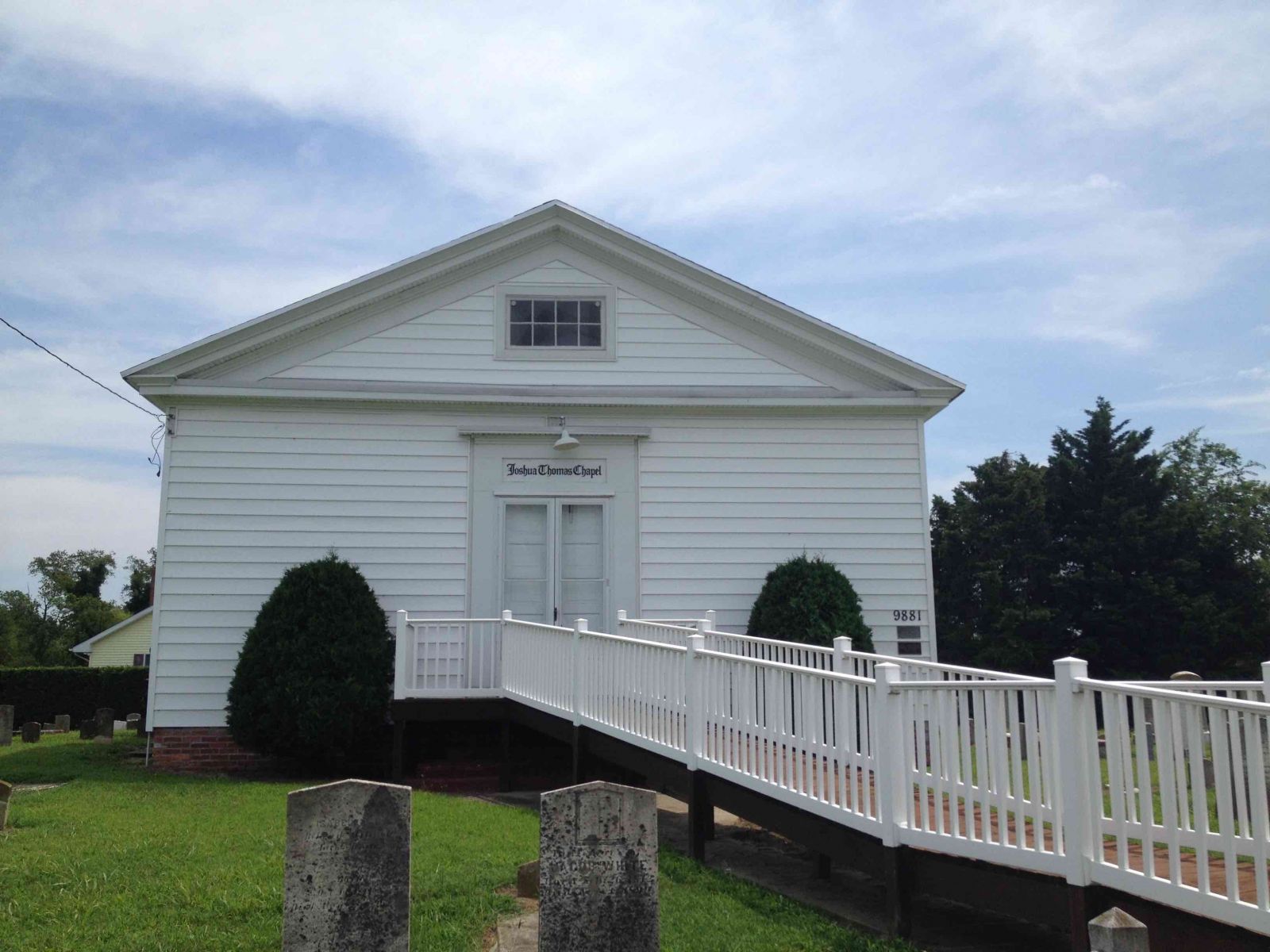 Joshua Thomas Chapel, Deal Island, MD. Photo credit: Elizabeth Van Dolah
You only have to spend a weekend on the Deal Island Peninsula to realize the significance of Methodism here, and to become familiar with the name Joshua Thomas. St. John's Church is one of seven United Methodist churches that dot the landscape (one of 10 if you count the three churches that have closed over the past several decades). Visit the Peninsula during the Deal Island Skipjack Festival on Labor Day weekend, and you'll likely hear about Joshua Thomas, who was a waterman turned preacher. He ministered island to island in a small sail-powered canoe called the Methodist and led camp meetings at the site where the Chapel now sits. He is also known for famously foretelling of the British defeat during the War of 1812, a message that is said to have been delivered to him by God. Embedded in these stories and in the sermons you hear on Sundays are insights into how these histories have shaped many of the people who call this place home. 
For the waterman I sat with on the weathered pew, Joshua Thomas represented a core part of his community's faith-based roots, and the chapel is a reminder of how integral faith is to the community's ability to remain resilient in the face of change. Through a strong Methodist heritage, as he put it, "we've learned to trust our ability to work, our ability to trust God to supply what we need, and have faith that it'll all work out." Faith is what brings these communities together when harvests fall short and money is tight, when storms batter their shores, and floodwaters interrupt daily living. And it is through remembrances of figures like Joshua Thomas that many learn to carry on a key piece of the cultural identity of this place that has sustained these communities for generations. 
In learning about the importance of Methodist heritage on the Deal Island Peninsula, I've realized that heritage itself is a kind of faith, a faith in the past and in what it can do to help us navigate the complexities of the world we live in today. It's through heritage that we come to learn who we are, where we belong, and how to carry forward a piece of ourselves into the future. I'd also like to suggest that it's through the role of Methodist heritage in places like the Deal Island Peninsula that we've been able to sustain a rich and valued waterman and farming culture here in the Chesapeake Bay region. 
Over the next century, the Deal Island Peninsula and the broader Chesapeake Bay region will likely see drastic social and environmental changes, as climate change and its effects — like rising sea level and coastal erosion — become an increasing reality. As we struggle to try to figure out how to adapt to these changes, how can we draw on our understandings of the past to help us carry forward what it means to be of the Chesapeake so that future generations have a sense for where they come from? What role can heritage play in helping us sustain the cultural integrity of our communities while planning for climate futures?  I think heritage has quite a bit to offer, and I look forward to sharing more insights as I work closely with DIPP anthropologists, other social science researchers, and planners over the next year to study collaborative climate change planning and assist local communities in building a socially and environmentally resilient Deal Island Peninsula.
Photo, top left: St. John's United Methodist Church, Deal Island, with the Joshua Thomas Chapel in the background. Photo credit: Katherine Jo Johnson
More details about this project
Sign up to receive email alerts about new posts to the Fellowship Experiences blog
See all posts to the Fellowship Experiences blog
The Blue Crab: Callinectes Sapidus
An essential resource for researchers, students, and managers.  Get your copy today!