Maryland Sea Grant Welcomes Rona Kobell to Our Communications Team
November 20, 2017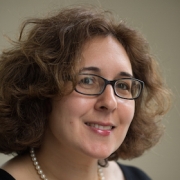 Rona Kobell has joined Maryland Sea Grant's communications team as a science writer and editor. In addition to writing for our magazine Chesapeake Quarterly, she will work with our Extension service and university researchers.
For the last eight years, Kobell has been a reporter for the Chesapeake Bay Journal, a newspaper that covers scientific and regulatory issues in the watershed. She also co-hosted and co-produced a radio show on Chesapeake Bay issues that ran for five years on Baltimore's main NPR station and was broadcast statewide. Her Bay Journal work took her all over the Chesapeake's 64,000-square-mile watershed reporting on stormwater, poultry manure, blue catfish, waterfowl, and crabs. She has written most extensively on oysters, having covered the birth of the aquaculture industry in both Maryland and Virginia.
Prior to joining the Bay Journal, Kobell was a reporter with the Baltimore Sun from 2000 to 2008. She was named the paper's first Chesapeake Bay writer in 2004. She has also been a prolific freelance writer, contributing cover stories for National Parks magazine as well as pieces for Slate, Grist, Modern Farmer, The Boston Globe, The Atlantic's Citylab, Reason, and Columbia Journalism Review. In 2015, Baltimore Magazine named her best environmental writer. Last month, she won a Lowell Thomas Award for best environmental travel writing in the country for a story about Jamaica Bay in New York City. She has also written and co-edited three investigative reports for the Abell Foundation in Baltimore. One was on farm pollution; two were on industrial hemp.
"I'm thrilled to join Sea Grant. When I was a reporter at the Sun, I'd always get so excited when Chesapeake Quarterly landed on my desk. It was, and is, a wonderful publication," Kobell said. "I'm looking forward to helping the scientists and researchers communicate their work, and exposing as many people as possible to the important scientific findings coming out of the many universities in Maryland."
Maryland Sea Grant Director Fredrika Moser echoes these sentiments. "I could not be more excited to have Rona join our communications team at Maryland Sea Grant," Dr. Moser said. "She is a writing and communications powerhouse and knows the ins and outs of the Chesapeake Bay region. I look forward to creating with her innovative ways to enhance Marylanders' understanding of our waters."
A native of Pittsburgh, Kobell graduated from the University of Michigan in 1993 and returned for a year-long Knight Wallace Fellowship in Ann Arbor in 2008. There, she studied economic approaches to environmental sustainability. She lives north of Baltimore with her husband and their two children.
Photo Credit: David Harp
Contact Rona Kobell at kobell@mdsg.umd.edu.
Sign up for a free print and/or online subscription to Chesapeake Quarterly.
The Blue Crab: Callinectes Sapidus
An essential resource for researchers, students, and managers.  Get your copy today!