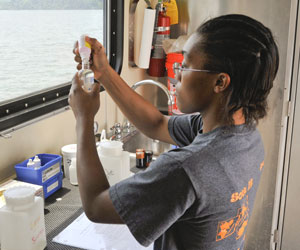 Careers in Marine Science
An REU fellowship is a great way to prepare for a career in the marine sciences.
On this site we feature the careers of our REU alumni. Each student has followed a different path to their career. Find out how they are contributing to our appreciation of the marine sciences.
Are there questions you'd like to have answered on the Career Spotlight page? Send your questions to: connors@mdsg.umd.edu
---
Featured Spotlight

Credit: Icon Films
What is your current job?
I'm the host of the wildlife adventure TV series "Beast Hunter" on the National Geographic Channel.
What is a typical day like for you? Do you use any special tools or equipment?
There is no typical day with this "job"! Generally, a shoot lasts 15 days and I average 4 hours of a sleep a night. My waking hours are spent in extremely remote locations all over the world: searching for wildlife to interact with, living with various indigenous peoples and participating in their customs and rituals, and traveling in remarkably unsafe modes of transport. We do use a lot of special equipment. Some of the cooler and most useful pieces of kit have been: thermal imaging (FLIR) cameras, still and video camera traps, 3D sonar imaging, deep-sea ROVs, and the hands down greatest was a 3 man deep-sea submersible that I was able to take down 1000 feet into the waters off British Columbia.
---
More spotlights