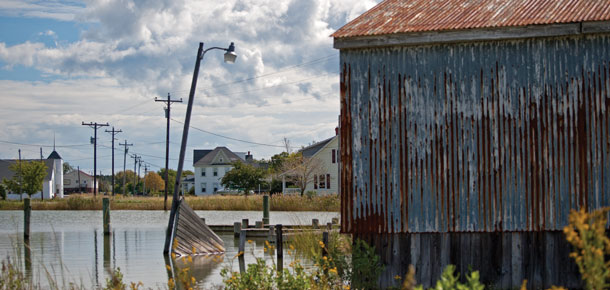 The water surrounding Maryland's coasts is slowly but steadily creeping up. Sea level rise, a consequence of global climate change, threatens property, livelihoods, and even lives on Maryland's coasts. Studies show that sea levels are already rising around Maryland.
Scientists have forecasted an increase of as much as 2.1 feet in the Chesapeake Bay by 2050. And by the end of this century, that number could be 3.7 feet or higher. Scientists have identified several reasons, which are described in a video produced by Maryland Sea Grant (below):
As oceans around the world grow hotter, they also expand because of the chemistry of salt water.
Glaciers and ice caps, including the icy regions around Greenland, are melting.
Since the end of the last ice age, the land around Maryland has been naturally sinking a tiny bit each year — a trend that has accelerated over recent decades.
Maryland Sea Grant Extension conducts outreach and research to help coastal communities prepare for the effects of sea level rise and coastal flooding. Through workshops, surveys, and town-hall meetings, we help to educate Maryland residents on what they should expect from sea level rise and how to prepare. We want to help preserve the culture and history of Maryland's coastal communities.
---
Maryland Sea Grant Extension Personnel

Dr. Kate McClure, Coastal Climate Specialist
Wye Research and Education Center
P.O. Box 169
Queenstown, MD 21658
Phone: (410) 827-8056 ext 164
Email:
mcclure@umd.edu
---
Among other activities, our coastal communities specialist:
Organizes workshops to help towns around Maryland understand how and where sea level rise could affect local residents.
Works with those same communities to design potential solutions, such as shifting development away from vulnerable shores, that recognize the priorities and financial constraints of town residents.
Conducts surveys to determine what Marylanders know about climate change. And what resources communities need to better plan for the future.
Come High Water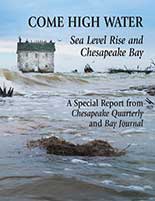 A special report, Come High Water: Sea Level Rise and Chesapeake Bay, offers a comprehensive look at the causes and consequences of increasing flooding along Maryland's coasts. This package, produced by Maryland Sea Grant's magazine Chesapeake Quarterly in partnership with Bay Journal, examines the scientific understanding and projections of the rate of sea level rise in the Chesapeake region; effects on people and the environment; and adaptations and policy responses that are under way or under consideration. An online interactive page offers videos, photos, and an interactive map showing flooding that is predicted to occur.
Visualizing Sea Level Rise in Maryland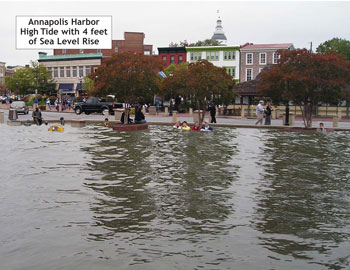 A few feet of sea level rise may not seem like a big deal — but it is, especially along the low-lying and sandy stretches of Maryland's coastline.
To help Marylanders see what effect climate change could have on popular landmarks, Maryland Sea Grant worked with University of Maryland geographer Michael Kearney to produce a photo series at the request of the Maryland Department of Natural Resources. We considered four locations around Maryland — St. Michaels, Kent Narrows, and Annapolis and Baltimore harbors. We've digitally altered photos to show what each would look like if severe sea level rise occurred.
We added four feet of sea level to each of the scenes — a value within the range of predictions for sea level rise in Maryland by 2100. And, to simulate what would happen during a big storm surge, we added another six feet of water on top of that.
View our sea-level rise visualizations for Baltimore, Annapolis, and two sites on the Eastern Shore (and try not to get your feet wet!).
Learn more
... in this video produced by Maryland Sea Grant.