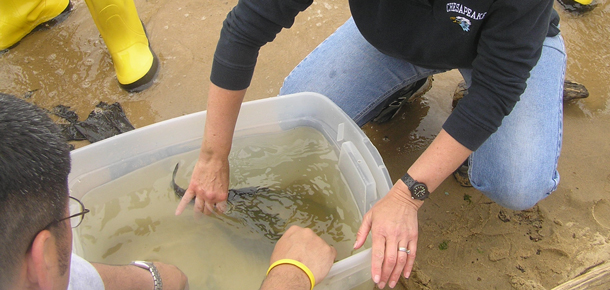 Maryland Sea Grant offers a variety of useful and engaging online lesson plans about marine and coastal science and its application in the Chesapeake Bay region. Some lessons were written by school teachers from Maryland and other states.
Because coastal science is an interdisciplinary enterprise, these lessons offer educators a proven tool for teaching effectively about core issues in science — biology, chemistry, geology, and more.
The Chesapeake Bay, an imperiled natural resource of national importance, provides a special opportunity to engage the interest of students.
Lessons Using the 5E Instructional model: With support from Maryland Sea Grant, teachers from across Maryland and other states have written lesson plans that meet the widely accepted "5E" instructional model for science. The lessons encourage students to develop inquiry and critical thinking and to learn about the process of science. Sample titles include:
Oyster Behavior in the Larval Stage
The Effect of Tides and Elevation on Wetland Plant Communities
Zebra Fish as a Model for Muscle Development​
Interactive Lessons: We also offer downloadable files that contain interactive science lessons that can be used offline. Detailed, step-by-step instructions for setting up laboratories are provided. Students can enjoy exploring these lessons on their own. Titles include:
---
Maryland Sea Grant Personnel

For more information, contact:
Assistant Director for Education
---